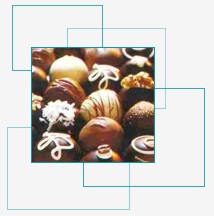 | | |
| --- | --- |
| | Wilfil series |
General Description
Wilfil is a fully refined, bleached, deodorized, and hydrogenated fat of palm kernel oil origin.

Characteristics
Wilfil is moderately hard fat. It is odourless, bland in flavour and has exceptional keeping qualities. In addition to superior palatability, products containing Wilfil have high gloss retention, good snap, and firm set. Wilfil series of products can be mixed with each other in all proportions.

Applications
Depending on the desired quality of finished products, Wilfil is tailored for use as coating and center application in biscuits, crackers, toffees, wafers, nuts, caramels, and vermicelli. Wilfil 320 and Wilfil 340 are also recommended for use in ice cream manufacturing to replace milk fat. Wilfil 360 and Wilfil 380 are strongly recommended for use in a non-dairy coffee whitener.

Technical Specifications


320
340
360
380
400
420
Free Fatty Acid (as lauric acid) (AOCS Ca 5a-40)
0.1% max
Moisture & Impurities (AOCS Ca 2c-25)
0.1% max
Iodine Value (Wijs) (AOCS Cd 1-25)
8 - 16
5 - 13
4 - 12
6 max
5 max
3 max
Slip Melting Point (AOCS Cc 3-25)
32-34 C
34-36 C
36-38 C
38-40 C
40-42 C
42-44 C
Saponification Value (AOCS Cd 3-25)
240 - 250
Colour (Lovibond 5.25" cell)
(model AF 900 E)
R = 1 max Y = 10 max
Solid Fat Content (pulse NMR)
20 Deg. C
25 Deg. C
30 Deg. C
35 Deg. C
40 Deg. C

60 min
33 min
10 min
6 max
-

65 min
38 min
15 min
9 max
3 max

68 min
40 min
16 min
11 max
4 max

70 min
42 min
20 min
13 max
6 max

72 min
48 min
28 min
14 min
10 max

75 min
55 min
36 min
18 min
13 max

Packing
Wilfil is moulded into polyethylene bags and packed in cartons of 20 kg. or 25 kg.

Storage
It is essential to store the product in the original packing in a cool and dry place, preferably not above 20 Deg. C and with 60% relative humidity. It should not be exposed to direct sunlight and must be stored away from odouriferous materials.

Shipment
A 20 ft. container can load 1000 cartons of 20 kg. each which is equivalent to 20 metric tons.