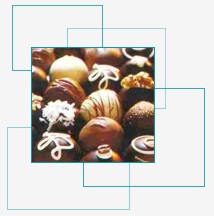 | | |
| --- | --- |
| | Prima Choco |
General Description
Prima Choco is a fully refined, bleached, and deodorized cocoa butter substitute, derived from fractionated and hydrogenated palm kernel stearin. It is a specialty fat widely used in the chocolate and confectionery industries.

Characteristics
At ambient temperature, Prima Choco is hard and brittle and has a completely neutral taste and flavour. It has a short and sharp melting range providing superior mouth feel properties. It has good resistance against fat bloom when used as cocoa butter substitute with low fat content cocoa powder and shows good gloss retention in the end-products. Prima Choco has excellent stability against oxidation, free from rancidity, soapiness and extraneous matter and impurities. It is a non-tempering fat. Compound chocolates prepared from Prima Choco form very stable crystals on cooling without tempering.

Applications
Prima Choco is an ideal fat substitute for cocoa butter in chocolate products. It can be applied to both moulding chocolates such as milk chocolate bar and plain chocolate bar or coating chocolate for biscuits, wafers, nougats, and nuts. Prima Choco based coatings are most suitable for used in warm climate because they show excellent heat resistance and sharp melting profiles. It guarantees excellent flavour release in the mouth. Prima Choco is a total replacer of cocoa butter in compound chocolate for enrobing, moulding, and extrusion. It may be mixed with lauric based coating fats (such as Wilfil and Wilkote) in any proportion to give a more economical source of chocolate fat. Prima Choco is not recommended for mixing with non-lauric fats, this is to avoid fat bloom.

Technical Specifications
Free Fatty Acid (as lauric acid) (AOCS Ca 5a-40) = 0.1% max.
Moisture & Impurities (AOCS Ca 2c-25) = 0.1% max.
Iodine Value (Wijs) (AOCS Cd 1-25) = 1 max.
Slip Melting Point (AOCS Cc 3-25) = 33.5-35.5 Deg. C
Saponification Value (AOCS Cd 3-25) = 240-250
Colour (Lovibond 5?" cell) (model AF 900 E) = 1.0R 10Y max.

Solid Fat Content (pulse NMR)

10 Deg. C = 93 min. 20 Deg. C = 90 min.
25 Deg. C = 84 min. 30 Deg. C = 43 min.
35 Deg. C = 4 max. 40 Deg. C = Nil

Packing
Prima Choco is moulded into polyethylene bags and packed in cartons of 20 kg. or 25 kg.

Storage
It is essential to store Prima Choco in the original packing in a cool and dry place, preferably not above 20 Deg. C and with 60% relative humidity. It should not be exposed to bright daylight and must be stored away from odouriferous materials.

Shipment
A 20 ft. container can load 1000 cartons of 20 kg. each of Prima Choco equivalent to 20 metric tons.