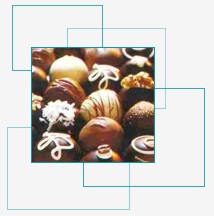 | | |
| --- | --- |
| | Special Choco |
General Description
Special Choco is prepared exclusively from a special grade of palm kernel oil under the most stringent processing conditions. The fat is the ultimate in lauric hard butter, designed exclusively for use in the extreme tropical environment.

Characteristics
Special Choco is hard, brittle, and snappy, yet melts abruptly to give a very desirable cooling sensation in the palate. It has excellent stability against oxidation, free from rancidity, soapiness, and any extraneous matter and impurities. Special Choco is a non-tempering fat. Due to the high solids content, Special Choco has excellent shrinkage to give clean mould release and thus minimizing breakage.

Applications
Special Choco is designed exclusively for use in chocolate bar and chocolate enrobing in tropical countries and hot summer days. It is also designed for those applications where larger amounts of coating ingredients containing soft oil are used.

Technical Specifications
Free Fatty Acid (as lauric acid) (AOCS Ca 5a-40) = 0.1% max.
Moisture & Impurities (AOCS Ca 2c-25) = 0.1% max.
Iodine Value (Wijs) (AOCS Cd 1-25) = 2 max.
Slip Melting Point (AOCS Cc 3-25) = 35-37 Deg. C
Saponification Value (AOCS Cd 3-25) = 240-250
Colour (Lovibond 5?" cell) (model AF 900 E) = 1.0R 10Y max.

Solid Fat Content (pulse NMR)

10 Deg. C = 96 min. 20 Deg. C = 95 min.
25 Deg. C = 89 min. 30 Deg. C = 52 min.
35 Deg. C = 15 max. 40 Deg. C = 1 max

Packing
Special Choco is moulded into polyethylene bags and packed in cartons of 20 kg. or 25 kg.

Storage
It is essential to store Special Choco in the original packing in a cool and dry place, preferably not above 20 Deg. C and with 60% relative humidity. It should not be exposed to bright daylight and must be stored away from odouriferous materials.

Shipment
A 20 ft. container can load 1000 cartons of Special Choco equivalent to 20 metric tons.